These 10 Best Amazon Firestick tips and tricks 2020 help get the most out of your Fire TV device!
If you managed to get your hands on the Amazon Firestick or Firestick 4K this year, then no doubt you are looking to super charge it with the latest apps!
We have already covered how to Jailbreak the Firestick, so we won't cover that in this post! What we will do, is teach you the 12 Best Amazon Firestick tips and tricks you should look at when first using your new Fire TV device!
If you are still unsure which Fire TV device is best, we recommend choosing the 4K version. Whilst it is only slightly more expensive, you will see benefits of 4K streaming, a faster experience whilst using the software, and a stronger performance – It's a no brainer!
Anyway, without waffling on too much, lets get into the good stuff;
Top 10 Best Amazon Firestick tips and tricks 2020
Here are the list of the best tips and tricks for the Firestick.
1 – Take advantage of voice commands (Alexa)
Not many people know that Alexa is built into the Firestick. Using the 'Voice' button at the top, you can use your Firestick remote to say different commands.
Some examples are 'Play Game of Thrones' or 'Dim the lights to 50%' – this work's only if you have Philips Hue lights, but you get the point.
You can command Alexa to improve your streaming experience by telling your Firestick what you want to watch!
Find a full list of supported commands, and learn more about what you can tell Alexa to do, by navigating to settings > Alexa > Things to Try for inspiration on your Firestick.
2 – Use the Firestick without the remote
If you want to learn how to use the Firestick without the remote, you can download the Fire TV app from the app store. The Fire TV app will allow you to control your Amazon Firestick using the app, just like the original remote!
If you lost your Firestick remote, the Fire TV app is perfect for controlling the device, whilst still being able to use the 'Voice Search' from inside the app.
The app works on Android, Windows and iOS and is the perfect solution if you have lost your Firestick remote!
-Recommended VPN for Firestick-
3 – Use Bluetooth headphones with the Amazon Firestick
The Amazon Firestick supports Bluetooth devices, which means you can pair your favorite headphones with the Fire TV. This also works with Apple Airpods.
If you want to watch Movies or Shows whilst the family are in bed, simply pair your headphones to the Firestick, for all audio to be sent via the bluetooth device.
How to pair Bluetooth headphones to Firestick
To pair your Bluetooth headphones or Apple Air Pods to the Amazon Firestick, simply navigate to Settings > Controllers and Bluetooth Devices > Other Bluetooth Devices and pair your chosen device.
4 – Play games on the Firestick with a Wireless Controller
If you are serious about Gaming on your Firestick, you can pair an Amazon Firestick Gaming Controller to play your favorite games from the app store.
The gaming controller allows you to control your Amazon Firestick for browsing apps and streaming. Some also support Voice Search too.
Improve how you interact with the Firestick with a brand new Gaming controller – but make sure it is supported by reading the descriptions and comments!
5 – Change your location on Firestick to unlock more personalised features and content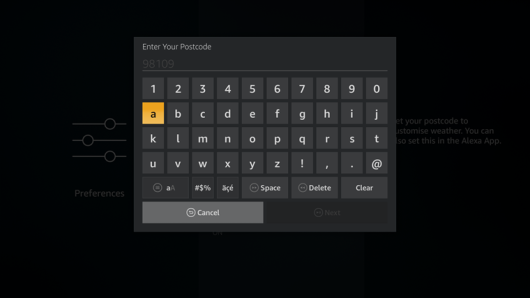 You can change your location on the Firestick to unlock more personalised features. This may be useful for local news, updates and content. To change your postcode on Firestick, navigate to Settings > Preferences > Location and enter your post code.
You can also use a VPN to 'Geo-Unlock' more content. An example of this would mean UK users can connect to a US IP address, to unlock more Marvel content. Or US users can connect to UK to unlock apps like BBC iPlayer.
We already covered how to setup a VPN on Firestick which will be useful for unlocking more content, and hiding your streaming activity from your ISP (Internet Service Provider). You may also want to read our post that answers questions like what is the best VPN for Firestick as there are many to choose from!
6 – Disable 'Auto play' on Featured content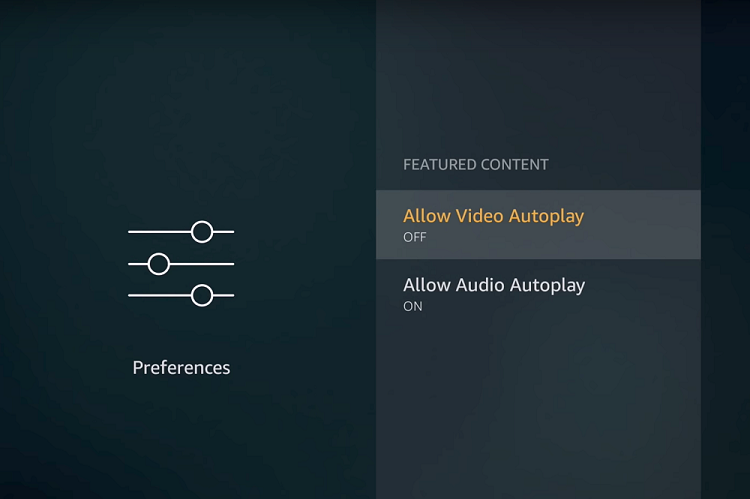 Whilst the Amazon Firestick is immersive and provides a great user experience, it can sometimes be frustrating when reading a Movie or Show synopsis.
Whilst hovering over a Film or Series, the video will automatically play a clip, trailer or sometimes even the start of the feature.
You can disable the Autoplay of Featured content by visiting Settings > Preferences > Featured Content on the Firestick and turn off if required.
7 – Disable interest based ads on Firestick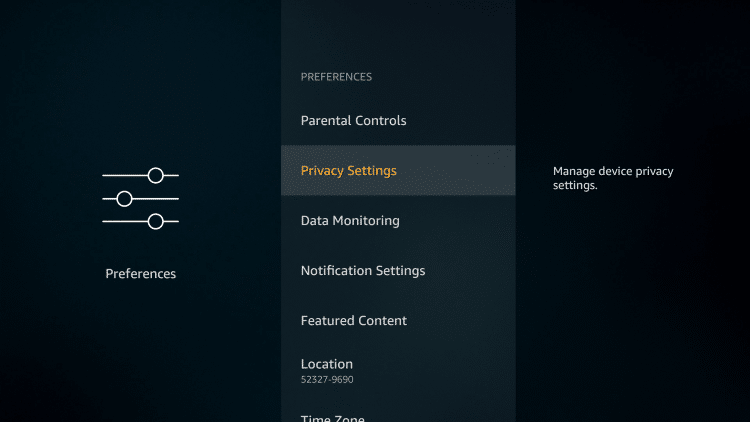 Many Firestick users prefer to change their privacy settings on the Firestick because Amazon will send data reports back from your device if you do not disable it. You can also disable interest based ads on your Firestick, which we recommend to prevent Amazon collecting personal data and interests on your activity.
Head on over to Settings > Preferences > Privacy and disable 'Device Usage Data', 'Collect App Usage Data' and turn off Interest-based Ads if desired.
8 – Disable Parental Controls on Amazon Firestick
You can setup a PIN on the Amazon Firestick which prevents children or other family members accessing content or apps. Whilst Amazon are serious about Parental Controls on the Firestick, this may not be useful for you.
Parental Control is recommended to prevent unwanted or accidental purchases on the App store or Movie store. But if you are in full control of your Fire TV, you might want to disable the feature.
To disable Parental Control on the Firestick and remove the need to enter a PIN or to enable the PIN feature, navigate to Settings > Preferences > Parental Controls and set your desired preference.
9 – Change the Screensaver on Firestick
A screensaver will show on the Firestick due to no activity after a certain amount of time.
Whilst the screensaver on the Firestick looks nice, you can customise it and even showcase photos from your Amazon Prime photos.
To change the Screensaver settings on the Firestick navigate to Settings > Display & Sounds > Screensaver and set your desired screensaver.
10 – Cast Amazon Fire HD Tablet to Firestick
The Amazon Fire HD Tablet is a very popular tablet, and is often on offer to buy it cheap!
Whilst you can watch your Favorite TV Shows or Movies on the Fire HD tablet, you can also cast your screen to the Firestick. This is useful, if you start watching something on the tablet, and want to continue on the TV.
You can use the Second Screen icon (a screen with an arrow in it) on your FireHD Tablet and enable second screen on the Firestick to cast your FireHD to the TV.
You can enable second screen notifications by navigating to Settings > Displays & Sounds > Second Screen Notifications and turning them on.
You can now cast to your Firestick!
Top 10 Amazon Firestick Tips and Tricks Summary
Now you have tweaked the best tips and tricks for the Firestick, you can continue to use it in a way that is personalised to you!
There are so many customisations to tweak on the Firestick, we recommend navigating through the settings and customising it to the way you want it!
You can also download third party apps to the Firestick with apps like Filelinked which will allow access to additional apps like Showbox and more!
Consider sharing the post if you found it useful, and follow our social pages for more useful Tips and Tricks!